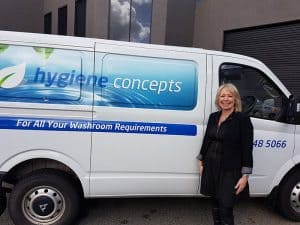 Servicing Sanitary bins and disposing of hygiene products and waste is a task that has to be done on a regular basis. It is a tedious task everyday people and businesses prefer not to think about it, however, it is imperative from a hygienic perspective that these services are upheld for the safety of staff and the public who use sanitary bins. 
Hygiene Concepts are based in Perth and specialise in hygiene solutions and services, with sanitary bin disposal being a primary service offered. 
Can You Service Your Own Sanitary Bin?
Sanitary bins are required to be emptied every 4 weeks, and the process of such should not be undertaken by cleaners but rather by a contractor like Hygiene Concepts to uphold a level of exceptional hygiene and cleanliness.
This is because the process of just emptying the bin and removing the contents and liner does not provide the adequate level of cleaning and sanitising that Hygiene Concepts can provide. 
Hygiene Concepts will replenish the sterilising granules as part of the sanitising process, as well as dispose of the waste offsite in a safe manner to prevent any contamination on-site and to staff and members of the public.
For an experienced team in servicing and sanitising sanitary bins for businesses all over Perth, contact Hygiene Concepts for the most reliable and safe disposal of sanitary waste.