Our story – more than just a concept
Delivering Quality Hygiene Services to All of Western Australia
Hygiene Concepts was established in 1996 by our managing director, Carol Kingston. The focus of Hygiene Concepts was to become a leading, hygiene services company that delivers high-quality washroom solutions to all businesses within WA. Fast forward to today, the company is now one of WA's premier privately-owned businesses that continues to deliver reliable, functional and cost-effective hygiene services to new and existing clients.
Hygiene Concepts works closely with all clients, taking the time to understand their needs and requirements whilst fulfilling the best hygiene safety practices. The company specialises in tailoring hygiene services with the following:
– Bathroom Supplies
– Sanitary Bins
– Sharps Disposal
– Sanitising & Cleaning Services
As a leading supplier of washroom hygiene services and bathroom supplies, we are dedicated to keeping your washrooms clean and fresh by going the extra mile to provide exceptional service.
Reliable & Safe
Our staff are highly trained and friendly hygiene safety experts who will always provide service and maintenance to the highest of standards. All service technicians hold a police clearance. Hygiene Concepts adheres to all on-site codes of practice and compliance with all Commonwealth, state and workplace Industrial Relations, Health, Safety and Environmental Acts.
All services are delivered in adherence to AS/NZS ISO 9001:2000, enforcing strict in-house procedures, standards, methods and customer satisfaction. Quality systems in relation to risk management ensure that the potential for harm and unplanned outcomes are minimised.
Eco-friendly
Cleaner, greener hygiene and sanitation products are at the heart of everything we do. We are dedicated to providing quality service with an environmentally sound hygiene solution. Hygiene Concepts identifies and responds to the ever-changing needs of the client, the industry and the world. We use eco-friendly and natural bathroom products where possible as part of our continued commitment to sustainable working practices.
Always on Time
We understand washroom hygiene services better than anyone in Western Australia, so we know the importance of fast response times when you need your hygiene equipment serviced. Nothing is too much trouble for us at Hygiene Concepts, with our team always ready to help with any of your hygiene needs. Our expertise in providing washroom hygiene solutions is demonstrated through our successful management of major contracts and the servicing of approximately 2500 locations within WA.
If you would like to join one of the many businesses in WA using our hygiene services, contact us today to get started on your hygiene safety plan. We provide installations within 24 hours so you can guarantee a hassle-free and clean environment in no time!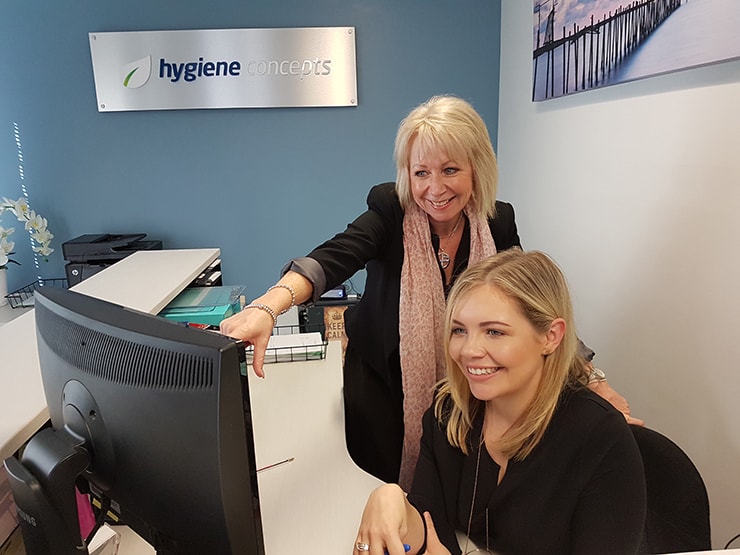 Our Commitment to Service
Hygiene Concepts are committed to providing you with a high quality service that is second to none.
How can we help your business?
Our friendly and experienced staff are ready to take your call on 08 9248 5066.