Nappy Disposal Units
Proud to be Perth's local supplier of hygiene services
Nappy Disposal Units
The Hygiene Concepts nappy disposal systems come in various capacities and are ideal for use in a range of facilities including nursing homes, day care centres, kindergartens, disabled schools, day nurseries, medical centres, hotels, restaurants, shopping centres and more.
Our nappy disposal bins are designed to meet the needs of any washroom with baby changing facilities and give parents and child-carers a safe and hygienic way to dispose of used nappies.
Our nappy disposal units are easy-to-operate, manual units that contain strong fragrant granules to kill the germs and disguise the smell of soiled nappies, and can be serviced on a daily, weekly, fortnightly or monthly basis.
Features:
Totally professional and discreet feminine hygiene disposal
Regular or flexible disposal service intervals to suit your exact requirements
Various size units to meet your requirements
Fully exchanged, freshly-sanitised nappy disposal bins
Feminine hygiene sanitary bins and nappy disposal units have a bin liner inserted, containing a sanitising and deodorizing agent to eliminate odours, to keep bathrooms fresh and hygienic.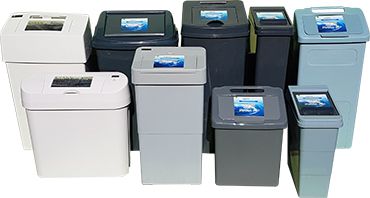 Get in touch
How can we help your business?
Our friendly and experienced staff are ready to take your call on 08 9248 5066.