Nappy Disposal Services Perth
Safe & Hygienic Nappy Disposal
Hygiene Concepts offers a range of nappy bins that come in various designs and capacities that suitable for an extensive range of facilities. Our servicing and product quality ensures that your washroom and baby changing facilities offers parents and carers a comfortable and hygienically safe environment. Designed for easy operation, our manual nappy bins contain strong fragrant granules to eliminate germs and get rid of the inevitable smell from soiled nappies.
Our team ensures nappy disposal service on a regularly scheduled basis that best suits your business, which can either be daily, weekly, fortnightly or monthly. All nappy bins are freshly sanitised and the waste disposed of off-site, so you and your staff and members of the public are not exposed to toxic waste. All of our bin liners are biodegradable and highly effective in combatting odours and controlling the spread of germs. If you're looking for a durable and cost-effective solution for nappy disposal, Hygiene Concepts can organise a nappy bin solution that meets your facility requirements. We service and are not subject to the following range of facilities:
– Nursing homes
– Daycare centres
– Kindergartens
– Disabled schools
– Day nurseries
– Medical centres
– Restaurants
– Hotels
– Shopping centres
A hygienic and well-appointed Parenting Room is an asset to any business by providing a safe and practical place for parents and carers to replace and dispose of nappies. If you're thinking of installing nappy disposal units at your facility, contact us today to see how we can help tailor a solution. View our service features below:
– Totally professional and discreet disposal
– Regular or flexible disposal service intervals to suit your exact requirements
– Various size units to meet your requirements
– Fully exchanged, freshly-sanitised nappy disposal bins
– Bin liners contain a sanitising and deodorizing agent to eliminate odours, keeping bathrooms fresh and hygienic for every visitor.
Are you setting up a parents room? Read our latest blog post on things to consider when setting up a parents room.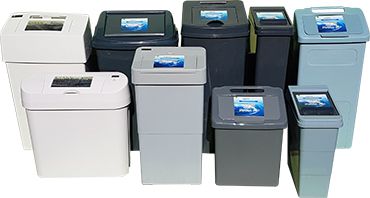 How can we help your business?
Our friendly and experienced staff are ready to take your call on 08 9248 5066.