Automatic Air Fresheners
We do everything we can to ensure we minimise out impact on our home.
Automatic Air Fresheners
Automatic digital air fresheners create a positive bathroom experience, and keep your washrooms fresh and welcoming. Hygiene Concepts offers a wide range of air care products that enhance our other sanitary services by neutralising stale and unpleasant odours and making your washroom areas a comfortable environment to visit.
The metered air fresheners dispense a natural, organic fragrance of your choice into the air and are fully programmable to your exact needs.
We design the spray intervals to suit your environment and we service the air fresheners regularly to ensure they are always operating optimally and are stocked.
Pyrethrum – The Natural Insect Repellent
Hygiene Concepts uses the natural insecticide pyrethrum in an automatic aerosol dispenser for convenient and hassle free insect control.
Our natural insect repellent is safe for humans, and is a highly effective mosquito repellent and fly repellent. Pyrethrum insecticide is also very effective at controlling a range of other insects. Our metered units are programmed to automatically deliver an odour-free, natural bug spray, and refills are readily available.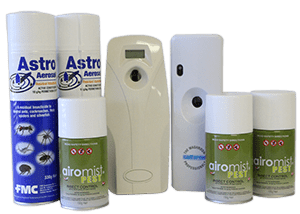 Get in touch
How can we help your business?
Our friendly and experienced staff are ready to take your call on 08 9248 5066.