Urinal Blocks, WC & Urinal Sanitation
Proud to be Perth's local supplier of Hygiene Services
Sanitisers for Toilets and Urinals
Hygiene Concepts toilet and urinal sanitisers are small dispensers that fit inside the cisterns and sanitise automatically with every flush. They release a powerful, biodegradable cleaning formula into the flush that breaks down organic waste that causes stains, encrustations and unpleasant odours and clears it out the toilet system – leaving clean, hygienic, fresh-smelling toilet bowls and urinals in your washrooms.
Hygiene Concepts sanitation products are safe to use in all plumbing and septic systems, and do away with the need for additional disinfectants and harsh acid-based cleaners.
Urinal Cleaning and Sanitation
With each flush, the Bio Tab Urinal Maintainer dissolves a portion of the Bio Tab, releasing its blend of active, biodegradable cleaning agents into the urinal and drain system as well as releasing a pleasant scent. The end result is an effective toilet cleaner and a fresh-smelling, and sanitised bathroom.
Bio Tabs make maintaining a clean urinal easy, as they are easy to install and highly economical – generally lasting for a minimum of one month.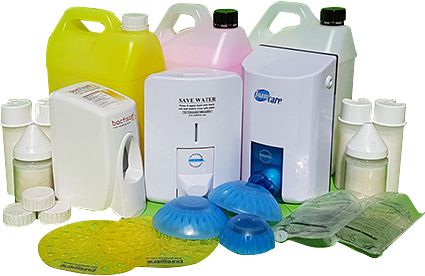 The toilet seat cleaners provide washroom users with an extra layer of assurance and confidence when using the washroom facilities. The toilet seat cleaners come in an attractive wall-mounted dispenser, providing the user with individual wipes with antibacterial and disinfectant properties. Toilet hygiene is immediately improved when users can sanitise the toilet seat, which ensures greater bathroom hygiene by helping to combat the spread of germs and inhibiting the growth of bacteria.
These handy toilet cleaners can be positioned inside each cubicle so that they are easily accessible and can easily help to improve sanitation and comfort.
Auto Toilet Cleaning System
Hygiene Concepts can provide your washroom with an effective auto toilet cleaning system which can be connected to both urinals and toilet cisterns. They clean, sanitise and deodorise urinals and toilets by releasing a measured amount of scented fluid with every flush. The sanitiser liquid mingles with the water in the cistern to prevent growth of bacteria and scale build-up, eliminate the source of odours and help keep plumbing clear.
Our washroom service team will make sure the toilet cleaners are well maintained and refilled at regular intervals.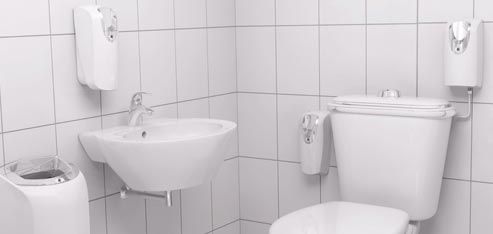 Deep Cleaning for Urinals
Specialist cleaning equipment and environmentally safe agents are used for urinal de-scale treatments which remove minerals from drains, fittings, outlets and urinal steps. Everyday cleaning generally does not remove the scale build up in urinals. This build up, especially in inaccessible areas, creates the perfect environment for harmful bacteria to multiply which can add to the number of blockages and can create unpleasant odours.
Deep cleaning urinals is the most effective hygiene treatment to eliminate the growth of bacteria, which is the main cause of odour.
The work is carried out by our professionally trained washroom hygiene specialists.
How can we help your business?
Our friendly and experienced staff are ready to take your call on 08 9248 5066.