Hygiene Concepts understands the importance of disposing of feminine hygiene products discretely and safely, which is why we offer a range of sanitary bins and services to thousands of businesses in Perth. We offer sanitary bin solutions that allow for easy and hygienic disposal which is essential for female washrooms. Designed to fit neatly alongside any toilet, our slim-line sanitary bins also come with an automatic lid – this battery-operated system eliminates the need for physical contact. Cross-contamination is reduced simply by passing a hand over the sensor.
Our sanitary bins contain extra strong granules that envelope sanitary towels and tampons in a powerful sterilising vapour inside the bin, destroying bacteria and eliminating unpleasant odours. Our professional staff collect sanitary bins at regular intervals according to your exact needs and replace them with thoroughly cleaned, freshly sanitised bins. All waste disposal and maintenance is done offsite to ensure the safety of your staff and the public.
We have been providing our sanitary services for over 20 years to over 2000 businesses all over Perth. With people choosing us for reliable, safe and effective hygiene solutions, you can join the growing number of clients we take care of and provide the highest service of hygiene safety. If you're thinking of installing sanitary bins at your facility, check out more information on our bins and how we can tailor a solution for you.
Frequently Asked Questions
What is a sanitary bin?
A sanitary bin is a unit that females use to dispose of hygienically of all sanitary items. Sanitary bins provide a discreet means to dispose of sanitary waste whilst ensuring no odour is present due to the addition of bactericide being placed in the fully lined units.
How often should sanitary bins be emptied?
The normal frequency for sanitary bins to be emptied is 4 weekly, in some cases depending on the ratio of females to WC cubicles it may need to be two weekly. It is not recommended to service anything more than 6 weekly due to the competency of the bactericide.
Can cleaners empty sanitary bins?
It is not advised as the disposal of the sanitary waste in general waste bins at a workplace is unhygienic for all other end users of the general waste bins. Emptying sanitary bins is not cleaning and sanitising bins.
Do I need to provide sanitary bins?
Council bylaws require sanitary bins in public toilets and disabled toilets. For non-public toilets, both female and disabled a hygienic means to dispose of sanitary items must be provided.
Read our blog on why your business needs a sanitary bin.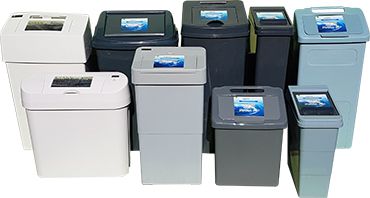 How can we help your business?
Our friendly and experienced staff are ready to take your call on 08 9248 5066.